PedaL Online Annual Convening
In the wake of the COVID-19 outbreak in March 2020, African universities were forced to either rethink their long distance learning modalities or suspend teaching and learning altogether. At the height of the pandemic, there was a renewed interest in educational technologies for distance or e-learning in an effort to mitigate teaching and learning disruptions. Then, more than ever before, the ability to effectively teach using online tools and platforms was understood to be an essential skill for university instructors. In response to this need, the Partnership for Pedagogical Leadership in Africa (PedaL), building on its extensive experience in capacity training in higher education pedagogy, technology-based learning and blended learning approaches designed and launched the PedaL Online: Technology for Transformative Pedagogy course.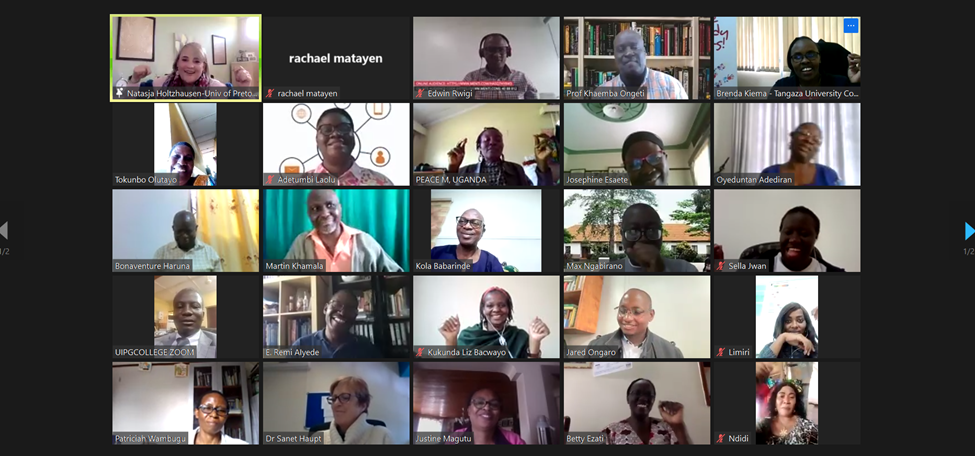 Since the launch of the PedaL Online course in June 2020, PASGR has worked with a team of about 60 resource persons drawn from the broader PedaL community of practice. This team of resource persons has supported in the training of 1,879 (769 females and 1,110 males) teaching staff from 37 Universities and 62 TVETS or Mid-level Colleges in East, West and Southern Africa. From 7 to 9 June 2022, PASGR had the distinct pleasure of hosting a community of practice Annual Convening – a learning and exchange forum specifically targeting PedaL Online resource persons.
Are African universities "going back to business as usual"1? Are university lecturers better prepared for future shocks? What does the "new normal" look like for African higher education? Themed 'reflecting back and innovating forward', this virtual forum invited participants to identify, reflect and discuss successes, challenges and emerging trends in blended and online teaching and learning across university disciplines. Leadership support, faculty training culture, an adult oriented learning were highlighted as key enablers of success.
Participants also had the opportunity to share tools and exchange best practices that have enhanced learning outcomes in their classrooms. While discussing innovative assessment, some participants, for example, noted that co-designing assessment rubrics with students had helped their students to clearly understand what was expected of them and consequently encouraged participatory learning, which improved learning outcomes. Also learning management systems are now a staple of blended learning in our universities. Are we maximizing the utility of these resources? Prof. Maximiano Ngabirano (Uganda Martyrs University) poignantly noted, "There is a danger in using learning management systems (LMS') as mere repositories to deposit notes and PowerPoints. LMS' need to be fully exploited for actual teaching and learning for 21st-centuary skills."
1Universities failing to capitalise on COVID-19 innovations, https://www.universityworldnews.com/post.php?story=20220511074447490
---