Utafiti Sera captures partners' imagination
Research Programme
There is no stopping an idea whose time has come. This is the story of PASGR's innovative approach to research uptake and policy engagement, Utafiti Sera (research-policy communities), which appears to have taken the research community by storm.
In a short three years, Utafiti Sera has become a key component of the Research Programme addressing the gap between research and public policy action. Utafiti Sera supports, builds and enhances a community of researchers and policy actors working together to ensure that appropriate and negotiated policy actions and uptake occur either through programmes, high quality policy debates, policy design or administrative and other forms of civic actions.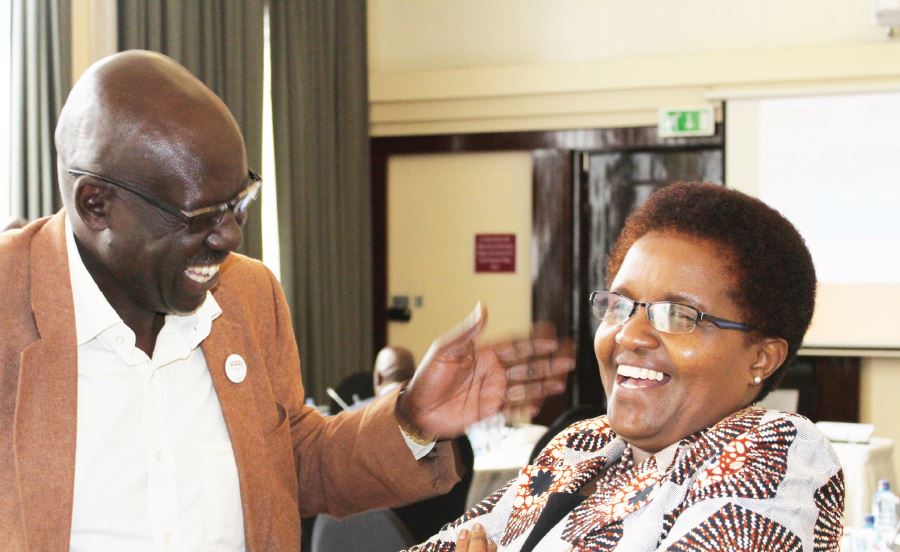 Such actions revolve around issues for which there is either research evidence or rigorous synthesis of available knowledge.
Bridging the gap between research and public policy is a major challenge and preoccupation of organisations that support and fund research for policy uptake. Governments, private foundations and other funders have recognised this challenge and are contributing to efforts that connect research to evidence-based policy making and programme implementation.
PASGR currently engages in three Utafiti Sera. These are : Social Protection in Kenya, and Employment Creation in Agriculture and Agro-Processing in the Context of Inclusive Growth in both Kenya and Nigeria.
Engaging with partners like the African Institute for Health and Development (AIHD) in 2016, under the Utafiti Sera initiative, constitutes a major breakthrough as it brings to realisation PASGR's quest to help translate research evidence into policy practice. The Ministry of East African Community, Labour and Social Protection used the evidence provided to inform their background research for a draft Bill on social protection in Kenya (see 'Providing research evidence for social protection in Kenya').
PASGR partnered with AgRisk Advisory to facilitate the Utafiti Sera on agriculture in Kenya. The Nigerian Utafiti Sera was implemented with the Nigerian Institute of Legislative Studies.
PASGR Executive Director Tade Akin Aina describes Utafiti Sera as one of the most creative programmes the organisation has ever developed. This is partly because although the innovative strategy did not exist at PASGR's inception, it has risen to such prominence that it is beginning to change how people relate to the pan-African policy research institution.
Utafiti Sera is also gaining international attention, following a PASGR presentation to the Dutch Foreign Ministry and subsequent funding to set up the three existing Utafiti Sera.
A major activity on the Research Programme in 2016 was co-hosting an Utafiti Sera forum on Social Protection in Kenya with AIHD. Ms Susan Mochache, the Principal Secretary for Social Security and Services in the Ministry of Labour and East African Affairs, Kenya, opened the May 10 event.
Thirty-five participants, including researchers, policy makers and practitioners discussed social protection issues requiring policy attention in Kenya. The forum was a follow-up to an earlier one in 2015, which attracted local and international participation.

In 2016, PASGR launched three new studies under the Urban Governance and Turning African Cities Around project. The studies under this project focussed on the politics and political economy of investments in urban infrastructure. The new studies are being conducted in Kigali, Addis Ababa and Nairobi and are expected to be completed by June 2017.
This post is from the 2016 PASGR annual report. Download a PDF copy to read other stories about our work.