Interrogating Decentralisation in Africa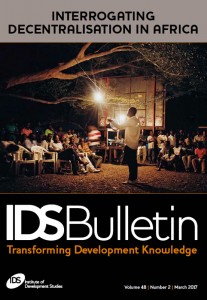 In 2016, several instructors in the PASGR Advanced Research Design and Policy Oriented Research Professional Development and Training programme undertook a joint research project. The idea was to ground what they teach participants on the practical application of various methods in research.
The instructors identified a common problem in Africa and applied their expertise to investigate it in their own countries. The decentralisation of governance (devolution) project was executed in Nigeria, Ethiopia, Ghana, Western Kenya and Uganda and was published in April 2017 as a special issue of the IDS Bulletin.
We are pleased to bring you the following selected articles:
The entire journal is available for free download here http://bulletin.ids.ac.uk/idsbo/article/view/2854/FULL%20ISSUE%20PDF
Related blog posts