PASGR-AuthorAID Gender Sensitization Workshop
PASGR staff members and selected university and institutional partners attended a gender sensitization workshop in Nairobi on March 16-17.  Associate Professor Josephine Ahikire, Dean of the School of Women and Gender Studies at Makerere University in Uganda, facilitated the meeting. Prof Ahikire's expert leadership made it possible for the participants to share their own experiences and learn from each other.
Workshop involvement began with a two-day online pre-meeting component, with participants completing assignments and reflecting on related readings before the two days of face-to-face sessions. Prof Ahikire pointed out that after the online engagements she had to review the content she had prepared to focus on how the participants could be gender-sensitive in their work, because she realised that the participants were already sensitized.
The workshop was designed to help PASGR staff successfully implement the organisation's strategic objective to integrate gender at institutional and programme level, as well as equip key partners to carry out gendered public policy research and integrate gender within graduate training on the continent.  Learning methods included skits, online and group discussions, brief lectures, written assignments and debates.
PASGR partners in attendance included Prof Felicia Oyekanmi (Department of Sociology, University of Lagos), Dr Damaris Parsitau (Director, Institute of Women, Gender and Development at Egerton University) and Dr Doris Nyokangi (Egerton University). Prof Mark Okere, Dr Mary Ochieng' and Mr Tiberius Barasa from the Master of Research and Public Policy partnership coordinated by PASGR were also present. Eighty seven per cent of the PASGR staff attended the training.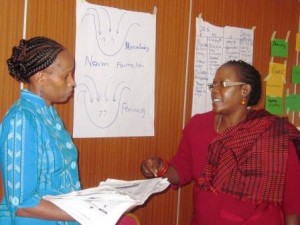 In his opening remarks, PASGR Executive Director Prof Tade Aina said he looked forward to a transformation of consciousness to enhance the organisation's commitment to excellence in the social sciences for public policy. He pointed out that excellence in the social sciences recognizes the diversity and plurality of contexts and phenomena, thus making gender analysis (among others) central to social science work. "Good social science will help us produce good policies; bad policies will kill us" he said, citing examples of health, education, agriculture and transportation policies.  He also expressed gratitude to AuthorAID for funding the workshop.
Participants applauded PASGR for holding a successful gender sensitization forum, stating that it was an enlightening, insightful experience. Prof Ahikire congratulated the participants for their active and engaging contributions during the workshop.