Accelerating Water Sector Reforms for Effective Service Delivery: Evidence from Accountability for Water Programme
The AfW consortium organised its final evidence and dissemination uptake convening in January 2023 in Mombasa, Kenya. The convening brought together at least 60 participants from government and non-government actors in the Water, Sanitation and Hygiene (WASH) sectors in Kenya, Tanzania, Ethiopia, Zambia, Zimbabwe, and Liberia. Global dissemination webinars preceded the event in the second half of 2022.
During the convening, AfW consortium partners shared research findings, insights, and evidence from the AfW Programme. Highlights of these were:
Although water resource management is recognised as a national mandate anchored in respective constitutions, poor coordination among the various levels of governance (national to local government levels) and among different government institutions often blurred duty bearers' roles and responsibilities with severe implications on service delivery and accountability pathways.
Water Resource Management (WRM) and WASH services are underfunded; a significant portion of the funding of Water Resource Management (WRM) and WASH programmes comes from donors.
Communication gaps between duty bearers and right holders (predominantly among low-income communities) undermined participatory and inclusive decision-making, which is crucial for accountability.
Vested interest undermined the enforcement of Water Resource Management policies and laws. As a result, regulation of surface water pollution by industries is particularly weak.
Participants deliberated on the challenges and barriers to accountability in the water sector, through the lens of the policy tapestry in respective study countries, and jointly identified pathways into improved accountability. This deep dive was embodied in action plans that are based on thematic and country-specific outcomes and recommendations to spearhead relevant interventions and potential policy harmonization and institutional reforms. The country-specific action plans are useful tools to navigate the complex knowledge translation process because they were co-created by both government and non-government stakeholders, based on emerging contextual evidence and crosscutting lessons. The rich pool of WASH sector expertise in the convening further critiqued the country plans and provided experiential knowledge crucial to their uptake and implementation.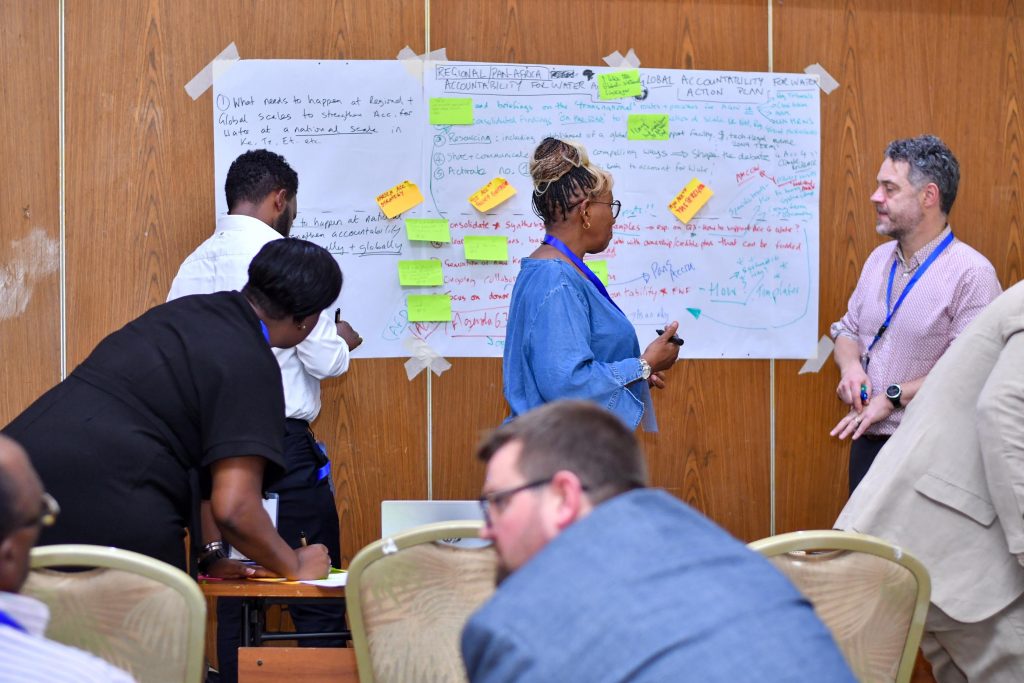 Based on contextual evidence from the programme's research, Kenya, Tanzania, and Ethiopia country teams identified one main intervention area each. The Kenyan team action plan centred on strengthening water policy coherence across the county and national governments; the Tanzanian team focused on incentivising water actors to comply with water resource management laws and regulations; while the Ethiopia action plan will strengthen partnerships and collaborations amongst strategic institutions to operationalise the findings.
Finally, stakeholders examined sustainability mechanisms for Accountability for Water programmes in the study countries. Citizens' genuine and deliberate participation in the budgeting processes within the water sector was lauded as one of the effective ways to active sustained social accountability.
The convening underscored the need for solid and sustainable partnerships to tackle the global water crisis – which is intractably interconnected to the climate change crisis. The convening brainstormed on a pan-African water manifesto, a timely endeavour ahead of the UN Water Conference 2023.
For further information: