Video: PASGR Design Shop on 'Building Capacity for African Development Data'
Over fifty participants from government bodies, international and regional organisations, civil society, media, the private sector, as well as universities and think tanks around the globe attended a two-day forum on Building Capacity for African Data.  The meeting was hosted by PASGR with support from the William and Flora Hewlett Foundation.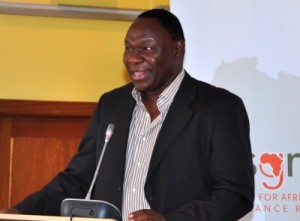 As laid out in the concept note, the Nairobi design shop sought to 'identify and advance a capacity development initiative to realise the objectives of the data revolution in Africa'.  Dr. Bitange Ndemo (CBS), former Permanent Secretary of Kenya's Ministry of Information and Communication, delivered a keynote speech on 'Government, the Data Revolution and ICTs in Kenya'.
The meeting agenda centred on identifying existing gaps and then suggesting appropriate capacity development ideas for the region.  The formation of a PASGR-led multi-stakeholder Working Group on African Capacity for Development Data to drive this initiative is expected.
In his opening comments, PASGR's Executive Director Tade Aina pointed out, "Data is central not only in framing  the agenda but also in measuring and monitoring  progress at the local, national, regional and global levels. Implicit in this recognition is the need for investment in human and institutional capacity and talent…especially acute in Africa."  He encouraged participants to engage actively in the discussions to help generate concrete ideas around cross-sector capacity building for development data.
A synthesis report will be posted on this page in due course.