New Masters degree in public policy formally launched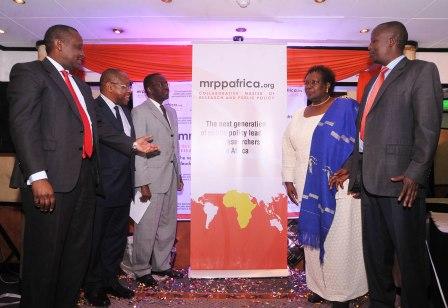 Public policy practitioners and students in Africa have a chance to study a specialised masters course offered in twelve universities, and uniquely designed to meet the continent's needs, which was formally launched on August 12, 2015.
The Master of Research and Public Policy (MRPP) has been developed over the last three years through collaboration between PASGR and 12 African universities.
The launch event in Nairobi was presided over by Kenya's Cabinet Secretary for the National Treasury, Mr Henry Rotich, and the Chief Justice, Dr Willy Mutunga. Other dignitaries at the event were: The deputy chair of the Education Committee in the Kenyan Parliament, Hon Julius Kibiwott Melly, vice chancellors and academics, and PASGR Board member Amb Prof Judith Bahemuka.  It was also attended by students already enrolled in the programme, researchers and policy practitioners from NGOs, development partners and PASGR staff.
Speaking before inaugurating the programme, Mr Rotich noted that effective public policy could only be a reality if the people in charge possessed a deep understanding of the challenges that face Africa, based on solid and credible research.
"Having seen the course content of this new programme, I have no doubt the MRPP will contribute towards efficient, effective and transparent public policy," he said.  Drawing from his personal experience while beginning his postgraduate studies, Mr Rotich expressed his intent to lead a public service fellowships initiative through which students could seek funding to undertake the MRPP.
The programme has already kicked off in eight universities where 150 have enrolled, with the first cohort set to graduate next year. It is being offered in Egerton and Maseno universities in Kenya; University of Dar es Salaam and Mzumbe in Tanzania; Jos, and Ibadan universities in Nigeria; and Ugandan Christian and Ugandan Martyrs universities.
Hon Melly challenged governments in Africa to enrol their staff for the new programme and offer opportunities to those students seeking work experience.
"I strongly commend the attention paid to relevance of this course as well as the innovative learning approaches. These are valuable learning lessons for us as we grapple with the dilemma of the mismatch between education and the labour market, and the diminishing quality of education," he added.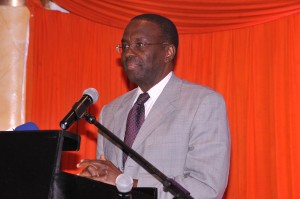 As he launched the programme, Kenyan Chief Justice Dr Willy Mutunga stated that research was key to identifying African interests, and that the continent's interests should in turn inform Africa's relations with the West.
Prof Aina thanked the partnering universities for their diligence and contribution to the realisation of the programme.
"The MRPP is working, thanks to the efforts of everybody who has been there throughout the journey — my predecessor, the Steering Committee and PASGR colleagues," he said.  "For us at PASGR, the MRPP is special as one of the key pathways to building the next generation of public policy leaders and researchers in Africa".
Academics and students who spoke during the launch gave accolades to the new programme, observing that it was already transforming teaching and learning at the universities.
They were full of praise for the innovative pedagogy, which embraces interactive teaching approaches, such as simulations, debates, role-plays and project-based learning, field experience and case studies.
The course, the first of its kind in Africa, prepares students for careers in diverse fields, including: Government, universities, think tanks, research organisations, civil society organisations, media and development agencies.  It was developed by academics from the partner universities, with input from scholars from respected European public policy institutions.
It equips students to identify and address national developmental challenges and issues that affect people in their daily lives, such as security, management of natural resources, hunger, HIV/AIDS and women's empowerment.  Students taking up the two-year full time course have a choice of two career pathways: Research and Policy Practice.
"The Research option familiarises students with the use of data to undertake policy research or pursue advanced scholarship, while Policy Practice equips students to use research to influence, inform or shape public policy," said Prof Tade Akin Aina, the Executive Director of PASGR.