Dar es Salaam University Vice Chancellor joins the Board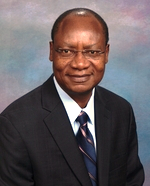 Professor Rwekaza Mukandala is the newest member of the PASGR Board of Directors. The Political Science scholar with a PhD from the University of California, Berkeley, is Vice-Chancellor, University of Dar es Salaam (UDSM), Tanzania. He was involved in the consultations that led to PASGR's creation.
The man at the helm of UDSM since 2007 expressed excitement at joining "PASGR's noble and exceptional efforts of developing and sustaining a formidable research base for tackling Africa's governance and public policy issues."
He brings extensive leadership experience as a fellow of the Tanzania Academy of Sciences, chair of various institutions including Research and Education for Democracy in Tanzania, the Tanzania Election Monitoring Committee, and the National Examinations Council of Tanzania.
The Political Science and Public Administration professor has previously served as President, African Association of Political Science, Faculty of Arts and Social Science and Public Administration, UDSM, and Chair, Committee of Vice- Chancellors and Principals of Tanzania.
The don, whose academic career spans two decades, has published 16 books and more than 60 articles in international and local journals.