African scholars in the Diaspora support research in Africa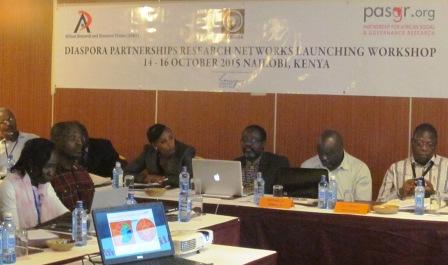 The Council for the Development of Social Science Research in Africa (CODESRIA), the African Research and Resource Forum (ARRF) and PASGR co-hosted a 3-day methodology workshop in Nairobi on October 14-16, 2015.  It marked the launch of a new programme on African Diaspora Support to African Universities and the selection of the first batch of researchers under the CODESRIA-Carnegie Diaspora fellowship programme. Supported by the Carnegie Corporation of New York, the workshop was attended by participants living on and off the continent.
A unique aspect of the programme is that all the research teams comprise a scholar in Diaspora and one based on the continent.  Some of the partnerships are at individual level, while others are at institutional level.  The meeting was an opportunity for a network of scholars in the Diaspora and those based in Africa to give a friendly critique of several proposed research projects.  "We are also interested in how the partnership will lead to the production of knowledge in the social sciences and humanities relevant to Africa's myriad contexts", said CODESRIA Research Programme Officer, Ibrahim Oanda.
Tade Aina, PASGR Executive Director, gave the keynote opening address and also moderated one of the workshop sessions.  "We are indeed delighted to co-host this event.  For us, it is an important part of the required partnership and collaboration that PASGR hopes for and is working for among our sister social science partners and networks," he said.  Dr Pauline Ngimwa, PASGR Higher Education Programme Coordinator, introduced PASGR's programmes to the participants and contributed to the critique process.  "I am looking forward to seeing the reports from some of the studies in educational technology because I have a keen interest in the subject," she commented.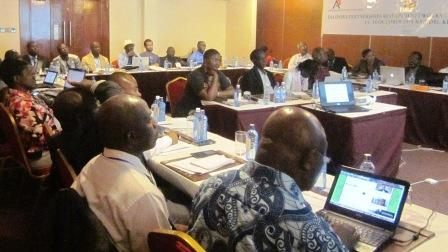 Other sessions were chaired by Francisco Sozinho (Deputy Executive Secretary CODESRIA), Ibrahim Oanda, Akinlabi Akinbiyi, Njoki Wane and Andre Renzaho.  ARRF was represented by George Omondi, Research Fellow and Executive Secretary.
One of the reviewers, Prof Irungu Munene (Northern Arizona University, USA), commented that the presentations at the workshop were diverse, ranging from pure research to project proposals.  He however underscored the importance of having a sound theoretical background for each of the studies.  "The social science must be there," he said.
Another reviewer, Prof Emmanuel Akyeampong (Harvard University, USA) lauded the initiative in his presentation on research in the social sciences and humanities in African universities.  He weaved his own experience as a young upcoming scholar into the idea of African academics in Diaspora contributing to the development of a new generation of scholars in Africa.
In a separate session, PASGR and CODESRIA also agreed on the modalities of future collaborations around the Diaspora and other initiatives.