Defining Moments for Africa's Premier Public Policy Course
Higher Education Programme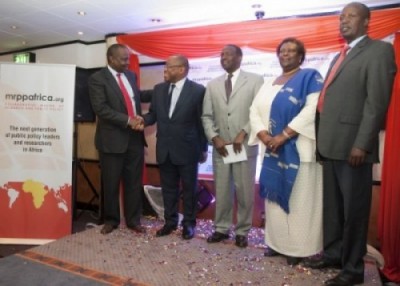 The rollout of the Master of Research and Public Policy (MRPP) programme was one of PASGR's proudest moments. The August 12 event made 2015 a landmark year for the Higher Education Programme (HEP).
Following the launch in Maseno (Kenya), Jos and Lagos (Nigeria) and Sierra Leone universities, PASGR's flagship programme now runs in nine institutions.
HEP Director Beatrice Muganda says of the MRPP launch at the University of Sierra Leone in November:
"They had been through the Ebola crisis. Students had already been admitted and when the university reopened, ongoing programmes took off seamlessly. If the students wanted to join other programmes, they would have done so, but they believed in the MRPP and what it could do for their country. They believed that through it, they could change public policy, so they waited for the launch."
The recruits' resilience testifies to the popularity of the programme that defines PASGR's academic leadership and excellence in research and public policy.MRPP enrolment spiralled from 161 in 2014 to 213 in 2015, preparing the next generation of leaders and researchers.
In Ghana, a man and his daughter sought admission in 2015. The father joined, while his daughter's admission was deferred. When the aspiring policymaker finally joins, she will find peers from various backgrounds, including public administration and politics. She will interact with lawyers, security chiefs, public health practitioners, environmentalists, agriculturalists, educationists, and media people, among others, from non-governmental organisations and the private sector. The course now attracts students for second Master's degrees and some with PhDs. The University of Dar es Salaam (UDSM) secured eight government scholarships for its students, a sign of confidence in the MRPP and its ability to influence and shape public policy. UDSM Vice-Chancellor Rwekaza Mukandala—a member of PASGR's Board of Directors—lauds the institution's efforts at "sustaining a formidable research base for tackling Africa's governance and public policy issues."
The MRPP's popularity was evident when its advert for DAAD scholarships attracted 100 applicants with four finalists (DAAD is the German Academic Exchange Service, Germany's largest support organisation for international academic co-operation).
Kenya Chief Justice Willy Mutunga's official unveiling of the MRPP in Nairobi was a defining moment for the180 guests, among them students,researchers, policymakers and actors. Accompanied by National Treasury Cabinet Secretary Henry Rotich and the vice-chair of the National Assembly's Departmental Committee on Education,Research and Technology, Mr Julius Kibiwott Melly, Dr Mutunga described the programme as "breaking new ground in the African higher education landscape."
The formal launch coincided with the second MRPP Week, which had students join staff for programme review. The student-centred course places high premium on listening to learners.
Top publications like the University World News, Times Higher Education and The EastAfrican captured the launch, endorsing the MRPP as a perfect fit for Africa's future.
In the first-ever keynote speech at an MRPP Professional Development Week, University of Pretoria Professor Jerry Kuye described the launch as a celebration of success stories. PASGR was "dealing with issues that pertain to African development, like we deal with our own individual problems in our countries at a time when we are looking for policies that are congruent to our needs."
In 2015, the programme reached 226 MRPP staff to enhance their teaching skills in PASGR-sponsored workshops at the universities of Uganda Christian, Uganda Martyrs, Ghana, Mzumbe and UDSM in Tanzania, Egerton and Maseno in Kenya and Lagos and Jos in Nigeria.
The nine workshops helped cascade knowledge, skills and experience in content and pedagogy to MRPP teaching staff. They also provided platforms for diffusing MRPP teaching and learning strategies to staff from other social science departments who teach on the multidisciplinary programme, thus shifting boundaries of traditional discipline.
PASGR Executive Director Tade Aina considers workshops exceptional learning events. They engage learners and instructors by way of preparations that aid active learning, which he considers "the greatest deficit in African higher education today."
Tooling and retooling of teaching staff entails looking at preparation and reviewing materials for quality, relevance, currency and engagement. It involves review of case studies, e-cases and role-plays and enhancing teaching skills through mock teaching sessions by faculty staff. In this manner, PASGR's innovative pedagogy continues to unfold in MRPP classrooms, gradually subverting the predominance of lecture methods, increasing teaching and for decades: paucity of case studies on development. Through training and mentorship, PASGR is building capacity in the case method in graduate programmes in African universities and reducing dependence on external trainers.
Other teaching and learning tools used included role plays, projects, group work, debates, peer-teaching, use of interactive technology and multimedia resources. Premium was laid on adult learning tools and spaces that facilitate interaction and discussion. PASGR balks at the lecture hall plan, so MRPP is popularizing the arrangement where instructors and learners sit in a circle, much like traditional communities do.
"The best modes of delivery will always be changing because we believe in endless approximation to excellence, which is not static," Tade Aina says.
Pursuit of excellence means "you cannot come back from last year and give us what you taught then." Innovative pedagogy requires staff to make learning interesting and meaningful. Learning is enhanced by practical application of skills in simulated classroom situations. Instructors contribute their knowledge and experience without pay, a sign of their commitment to the programme.
In 2015, six MRPP teaching staff were hosted by six universities in an exchange programme, part of PASGR's collaborative learning activities. They taught selected topics and took part in university-specific professional development workshops. Unlike the cascade workshops, which target instructors, students are the main beneficiaries of the programme. Staff exchange and professional development workshops enable cross-fertilisation of ideas and experience-sharing, among others.
PASGR and the MRPP's leadership in public policy saw Dr Muganda invited to join eminent panellists at the Guardian Global Development Professionals Network online discussion on July 30. They discussed what it will take to get better higher education in Africa.