Building resilience in Higher Education: Evidence on the Impact of COVID-19 in Kenya and charting a formidable Path Forward – PASGR Dissemination Conference
The COVID-19 pandemic impacted on the education sector globally forcing closure of learning institutions including universities to contain spread of the virus. The indefinite closure resulted to unprecedented levels of disruption in teaching and learning activities, adversely affecting university operations, students and lecturers in divergent magnitudes.
Characterised by unprecedented levels of uncertainty and disruptions, the pandemic affected capacity to meet specific university objectives, such as research and knowledge production. Despite the digital divide, African universities, as in other parts of the world, deployed a complementary number of distance learning approaches that included a mix of technologies, making learning resources available online and partnering with different sectors to make education accessible. Even with these coordinated efforts to sustain higher education provision , COVID-19 exposed the low resilience of education systems to support online learning. COVID-19 also laid bare existing inequalities in access to higher education in Africa. For instance, it became evident the existence of huge disparities across socio-economic status and rural-urban populations, with the rural and low-income populations being disadvantaged.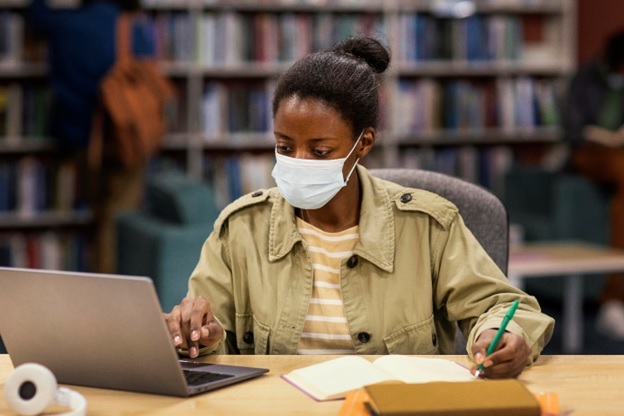 Kenya's Higher Education (HE) was not spared either, bearing a number of transitional and teething challenges in adapting to the 'new normal'. In this sudden shift to online learning, Kenyan universities like most others in developing countries were forced to adopt ill-considered virtual learning practices without preparation of both students and lecturers, and with minimal attention given to availability and access to ICT infrastructure, such as laptops and minimum resources to buy internet data bundles to support online learning. The Postgraduate programmes were equally affected with research students unable to access laboratories and fieldwork sites, generating a need  to meet with project supervisors virtually. This premature turn of events, affected the progress and completion of research projects. Mawazo Institute's study of 2020 reported 73% of respondents having suspended research activities in the laboratory or field because of COVID-19 restrictions.
However, the inadequacy of the universities and the government to adequately respond to wide scale disruptions in higher education resulted to a gap in service delivery and subsequently opened opportunities for philanthropy as well as interventions from the private sector. For example, KENET, Kenya's national research and education network (NREN) partnered with mobile service providers (i.e., Safaricom and Telkom) to supply discounted E-Learning Bundles to support online learning in universities.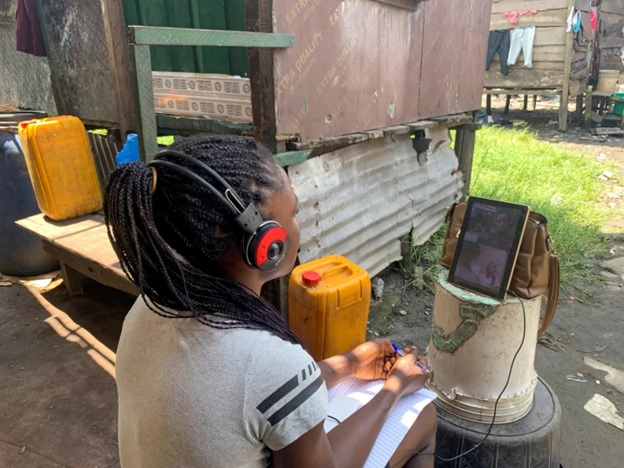 To cushion the Higher Education in African, and Kenya in particular, against such severe future shocks, it is important to reflectively take stock of this unprecedented experience in our higher education. This necessitates generation of critical evidence around how universities experienced disruptions, what interventions were put in place, and the level of their effectiveness. This evidence has relevance in informing policy interventions and programming to cushion higher education in anticipation of similar disruptions in future.
The Partnership for African Social and Governance Research (PASGR) has completed a two-year project aimed at strengthening access to higher education during and beyond the COVID-19 pandemic in Kenya. The project focused on three themes: resourcing for access, equity, and quality education during and post-COVID-19; opportunities for public-private partnerships; and the impact of the pandemic on postgraduate training and research and the future of emerging academics.
PASGR has organized a two-day conference on March 30-31, 2023, to disseminate the research findings and policy recommendations to local higher education stakeholders comprising university leadership, researchers, lecturers, students, higher education regulators, civil society, ministries of education, and the higher education sector. The conference aims to increase understanding of how the COVID-19 pandemic affected Kenya's higher education. The event further seeks to build a sectoral community of practice that will promote collaborative interventions towards cushioning Kenya's higher education from future shocks with a long term outcome of using evidence from this research to rationalise for changes in policy.