The First Convening on Gendering Policy-Engaged Education Research in Africa
Sub Saharan Africa contributes a very small percentage of the overall research generated worldwide and a lot of that research is driven by foreign development partners or donors. Therefore, Sub Saharan Africa is not necessarily at the center of determining the research agenda that is being funded through this support. It is vital that this terrain changes with more African researchers actively participating in generating the research agenda and carrying out the research itself. This is one way in which development needs of Sub-Saharan Africa are met as local solutions are identified and implemented.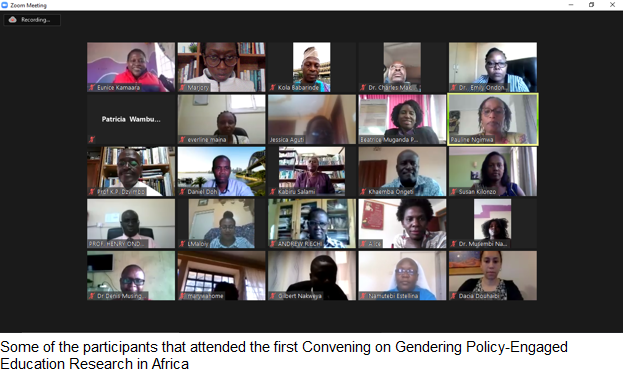 Education is a critical social issue. Engendering research to shape inclusive policies across Africa in Education is a critical contribution towards achieving agenda 2063 and Education for all. The Partnership of African Social and Governance Research (PASGR) through the support of the Spencer Foundation convened the first virtual meeting on Gendering Policy-Engaged Education Research in Africa that was held via the Zoom platform between March 18 – 19, 2021. PASGR engaged with education researchers and policy actors who joined in from different parts of Africa.
The meeting had three critical objectives which were to (i) Identify the key research issues in education reforms that require research evidence; (ii) Develop research agenda relevant to countries in SSA; (iii) Identify and build a consensus on research capacity gaps that ought to be addressed for effective production of inclusive policy engaged research evidence. In order to set the stage for discourse, the Keynote Address was delivered by Prof Kuzvinetsa Peter Dzvimbo, Chief Executive Officer (CEO) of the Zimbabwe Council for Higher Education. His speech was titled 'Gender and Policy Research: A Contested Terrain'. He further expounded on how the gender and research policy nexus is a highly contested terrain globally on the basis of gender itself, politics, culture, economics, and one's position, especially in our developing societies. He confined his presentation to evaluating various ideological and epistemological contestations, the need of critical researchers, the quest for a critical and emancipatory perspective to a gendered educational policy research agenda. He further provided proactive poignant points that spoke to the quest of a de-colonial epistemic research agenda. In conclusion, he called for all organic intellectuals to take part in reclaiming the gendered educational research discourse practices. 
Dr. Pauline Ngimwa, Programme Manager, Professional Development and Training, PASGR, provided the background of the Gendering Policy-Engaged Education Research in Africa Project. The rest of the day focused on presentations that included an overview of policy engaged education research, mainstreaming gender in education research, and the pressing education issues in Sub Saharan Africa. These presentations generated robust discussions from participants.
Having ended the first day on a high note, the participants began the second day by joining seven different breakout sessions which were focusing their discussions on Quality Education, Access, Equity and Participation in Education; E-Learning in Education, Pedagogy in Education, Professional Development, Competence-Based Curriculum and, Policy and Leadership in Higher Education. All the groups made their presentations in plenary and the key discussion areas were noted. These areas together with identified skills gap from the pre-conference survey will act as building blocks for the upcoming trainings. A three–week online methods training to support the development of the research agenda has been scheduled for the period of 7 – 25 June 2021. All the participants agreed to take part in the training and work together in the development of a research agenda.