PASGR Receives Meritorious Award
Philosophers of Education Association of Nigeria (PEAN) recognizes PASGR for Dedication to Education and Selfless Service to Humanity.
Enugu, Nigeria 27 October 2021:  The Partnership for African Social & Governance Research (PASGR) received an award from the Philosophers of Education Association of Nigeria (PEAN). PASGR was accorded this prestigious award at the Association's 40th Anniversary and Annual Conference held at the University of Nigeria, in Nsukka.
"This award underscores the tremendous positive impact – made possible by the support of donors, partners and collaborators – that PASGR has had over the past 10 years since inception, manifested through various interventions in education and capacity enhancement in Africa" said Dr. Anthony Mveyange, the Executive Director.  Reflecting on PASGR's next decade, Dr. Mveyange added, "partnership is everything and key to our mutually reinforcing successes and achievements.  PASGR cannot do all the work alone, we need you as individuals and a community to be a part of this journey."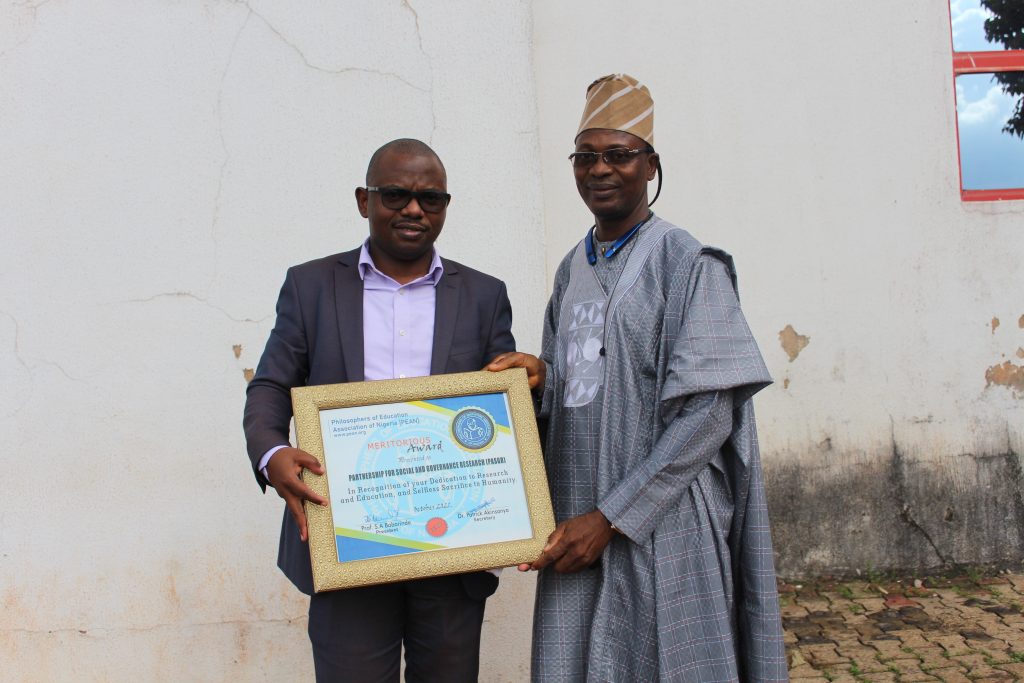 PASGR aims to increase the capacity of African academic institutions and researchers to contribute stronger evidence based research on public policy that can have a positive impact on development policies in Africa.  With presence in 26 countries in Africa, PASGR's interventions are in three areas – Research, Higher Education and Professional Development Training.  Its capacity building programs are Masters of Research in Public Policy (MRPP), Doctoral Programme in Public Policy (DPP), Professional Development and Training (PDT), The Partnership for Pedagogical Leadership in Africa (PedaL).  Emerging evidence on PedaL's impact in enhancing our students' employability skills shows that critical thinking has gone up by (92.6%), collaboration and teamwork by (90.9%), reflecting and connecting to real-life situations by (90.3%), change and adaptability by (79.5%), innovation and creativity by (77.3%) and digital literacy by (75.6%). 
PASGR's research intervention, the Utafiti Sera programme has connected over 5000 policy actors and researchers from various countries in Africa, around pertinent issues such as social protection, employment creation, energy politics, accountability and empowerment, transparency in the extractive sector, and urban governance.
PASGR's work is made possible through partnerships with donors who include: Carnegie Corporation of New York; The Foreign, Commonwealth & Development Office; Hewlett Foundation; The MasterCard Foundation; and The Open Society Foundation.