December 2015 update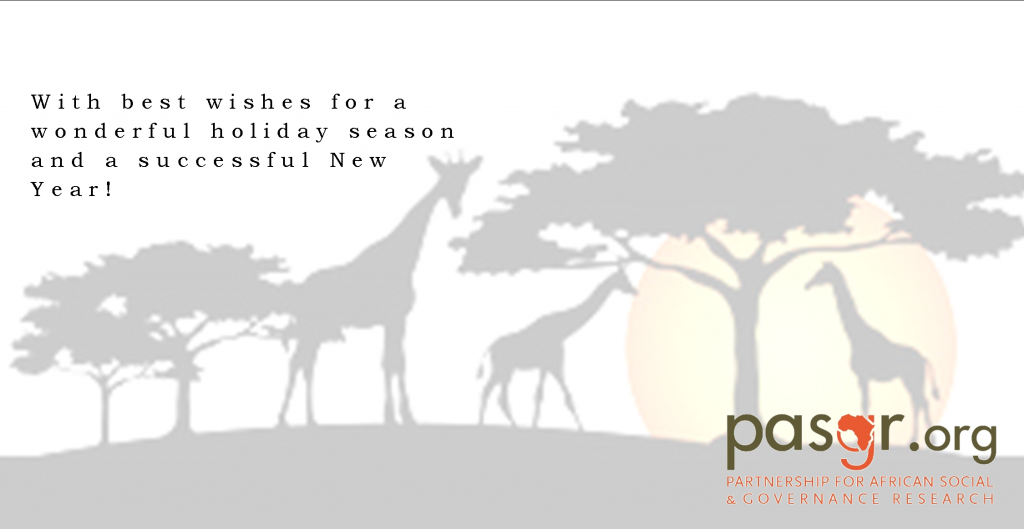 Dear colleague,
We are grateful for your support in 2015 and hope that 2016 has started on a good note for you!  Over the past few months, we have held several events.  We are also revamping our online presence and will share more details with you soon.  We have several videos on our budding YouTube channel, with more in the pipeline.  Some selected activities are shared in this update.
In September, we held two research workshops.  The first one was to review, edit and complete a book on social protection in Africa, and the second to review another manuscript on social protection programmes in Africa.  The PASGR Research Committee also met in September.
October events included a five-day professional development course on Contemporary Political Economy Analysis.  The PASGR Board of Directors also held their second meeting of the year.  In addition, we co-hosted a research workshop – African Diaspora Support to African Universities – with the Council for the Development of Social Science Research in Africa (CODESRIA) and the African Research and Resource Forum (ARRF).
We held three major meetings in November.  First was a research workshop to review ongoing case studies in Luanda, Lagos and Johannesburg on Urban Governance and Turning African Cities Around.  A second research workshop looked at progress of the Political Economy Analyses of Employment Creation in Agriculture and Agro-Processing in the Context of Inclusive Growth in Africa research project, ongoing in Ethiopia, Kenya and Nigeria.  Both meetings were held in Nairobi and were also attended by policy makers from the study countries.  Finally, forty African researchers and academics gathered in Nairobi for a 10-day professional development course in Advanced Research Design for Policy-Oriented Research.
Upcoming activities
We look forward to beginning 2016 in high gear.  Here are a few of the things that we are looking forward to:
Kenya data stakeholders meeting scheduled for late January in Nairobi.

The start of the Master of Research and Public Policy programme at University of Ibadan and University of Ghana.  The

call for applications

at the University of Ghana is currently open.

Launch of the revamped PASGR and Master of Research and Public Policy websites.
Keep in touch with PASGR!
Please keep in touch with news, events and upcoming opportunities from PASGR and other organisations (some are posted below) by connecting with us on social media:
External opportunities
Call for papers and proposals:  7th Annual Conference in Political Economy, September 7 – 9, 2016, Lisbon.  http://iippe.org/wp/.   Please contact the relevant organisation directly in case you have any questions.
With best wishes for a peaceful seasonal break and a happy new year,
The PASGR Secretariat