Politics, Public Policy and Social Protection in Africa: Evidence from Cash Transfer Programmes
Edited by Nicholas Awortwi and Emmanuel Remi Aiyede
© 2017 – Routledge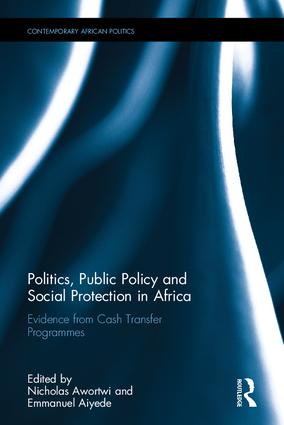 Africa is now in a much-improved position to support its poor and vulnerable people. It has more money, more policy commitment and abundant intervention programmes. Yet the number of citizens living lives of desperation, or at risk of destitution, is at an all-time high, and still rising. What is turning such positive prospects into such a disappointing result?
Politics, Public Policy and Social Protection in Africa reveals key answers, drawing on empirical studies of cash transfer programmes in Botswana, Ghana, Kenya, Nigeria and Uganda. Social cash transfer might be the most effective "safety net" formula to emerge so far. The country chapters in this book explore why it works and how it might be harnessed for poverty alleviation. The studies uncover the very different motives of donors, politicians and the poor themselves for making it their preferred choice; why governments are not expanding the donor-driven pilot programmes as expected, and why ruling elites are not trying to help or hinder a concept which, on the face of it, could derail one of their most lucrative gravy trains.
This book will be of value and interest to researchers and students of African politics, African social policy and sociology, as well as policy maker and donors.
Visit https://www.routledge.com/Politics-Public-Policy-and-Social-Protection-in-Africa-Evidence-from/Awortwi-Aiyede/p/book/9781472486523 to order a copy.
Table of Contents
1. Politics, Public Policy and Social Protection in Africa: An Introduction and Overview, Nicholas Awortwi
2. Political Patronage And The Expansion Of Cash Transfer Programmes In Kenya, Fredrick O. Wanyama and Erick O. Nyambedha
3. The Scope and Limits of Ghana's "Livelihood Empowerment Against Poverty" Programme, Ama de-Graft Aikins, Seidu Alidu, Ellen Bortei-Doku Aryeetey , George Domfe, Ralph Armah
4. Public Policy, intergovernmental Politics and the Piloting of Cash Transfers in Nigeria, Akinpelu Olanrewaju Olutayo and Ezekiel Best
5. Social Assistance As Election Bait: The Expansion Of Senior Citizens' Cash Transfer Programme in Uganda, Margaret Angucia and Mesharch W. Katusiimeh
6. Social Contract In The Absence Of A Written Policy: Provision Of Social Assistance In Botswana, Emmanuel Botlhale, Mogopodi Lekorwe, Baakile Motshegwa, and Bashi Mothusi
7. Conclusion: Reluctant Domestic and Enthusiastic International Actors of Cash Transfer Programmes in Africa, Nicholas Awortwi
Open Publication